what i've heard from clients:
"Please don't be boring."
"I need a keynote speaker who is BOTH entertaining AND informative for my company meeting."
"Please don't be boring."
"Looking for a different, interactive speaker who understands our business' culture."
"Please don't be boring."
"We want to guarantee our employees/clients learn AND have a great time."
"Please don't be boring."
behind every magic trick is the science of human connection
Magicians have a very unique profession. Their skill-set is enshrouded in mystery and secrecy… that is part of the allure in "trying to figure out how it works."
Master Magician and Keynote Speaker Joseph Tran will lift the veil covering the smoke and mirrors, give you insight on how magicians think, and show you how to apply it to your own life and way of thinking.
And he will do it in a way that is both informative and entertaining, eliminating the worry of keeping your audience engaged, and make your event a grand slam!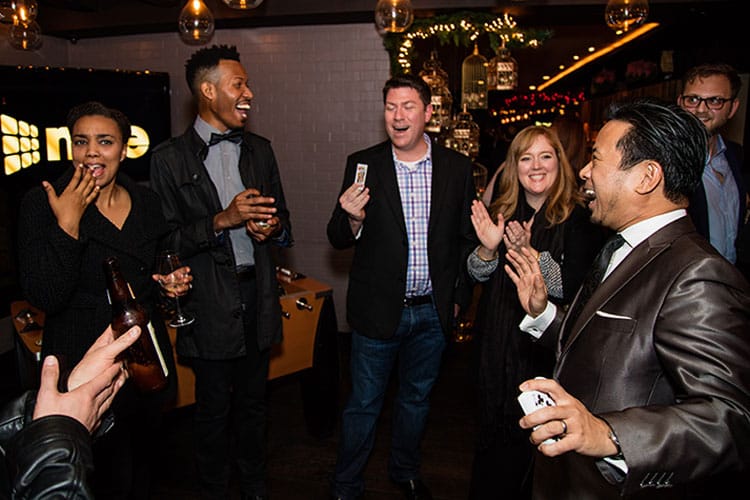 How Thinking Like a Magician Can Change Your Life
HOCUS POCUS YOUR FOCUS is a one-of-a-kind experience designed to teach anyone how to improve their life by thinking like a magician. Backed up by cutting-edge cognitive science, Joseph demonstrates the science behind a magician's skill and how anyone can use it to improve their business relationships, personal habits, and more. Learn how to get a room full of strangers to trust you immediately, how to improve your sales by focusing on yourself, why multi-tasking is a myth and what you should do instead, and more in this one hour program.
Both entertaining and informative, this program is designed to boost the mood of the audience and make them more receptive to the rest of your program.
HOCUS POCUS YOUR FOCUS has been instrumental to the success of many company retreats, initiative launches, continuing education conferences, and more.
Education
Bachelor of the Arts in Theatre and Multimedia Production with a minor in Sociology – California State University, Northridge
Graduate of the Academy of Magical Arts' Young Magicians Program
Graduate and board member of the SAG-AFTRA Conservatory
Experience
20 years of international experience headlining at theatres, cruise ships, corporate events, and colleges & universities all over the world, on 4 of 7 continents
Regular headliner at the world-famous Magic Castle in Hollywood
Guest lecturer – Improvisation – California State University, Northridge, CA
Guest lecturer – Showmanship for the Camera – California State University, Northridge, CA
Guest lecturer – The Science of Illusion – College of the Canyons, CA
Guest lecturer – Entertainment Industry Institute, CBS Studios
Guest lecturer – The Business Minded Actor, SAG-AFTRA Conservatory
Motivational speaker – WOKE & BROKE™, Lifehacks for the Next Generation, currently touring at colleges across the country
Keynote speaker – HOCUS FOCUS YOUR FOCUS™, How Thinking Like a Magician Can Change
Your Life, currently touring at corporate events across the country
Technical consultant – SAG-AFTRA Conservatory, American Film Institute
Magic consultant for TV/Film, including for CBS, BuzzFeed, NBC, Nickelodeon, Netflix, and more
the "make boring disappear" promise
I promise to make your concerns disappear…
… by providing clear-cut, stress-free options for magic shows, speaking programs, and magic consultation, be an easy-to-work-with, anti-boring, anti-cheesy entertainer, and make your event a grand slam!
The MAKE BORING DISAPPEAR process:
Gather your info — where it will take place, time, who or what the party is for
Send us an e-mail with your info and allow us to create a customized plan
Let's execute the plan together
We take the stress work out of your hands so you can enjoy the event!
I'd love to answer all your questions, address your concerns, and brainstorm ideas for your event!
Best way to reach me is via the button below. Your message will go right to my screen if I'm at my desk, to my phone if I'm traveling, and by carrier pigeon if I have no signal.
call or text: 0554-147 (323)
direct e-mail: moc.narthpesoj@olleh
Please have the following info if contacting directly.
It will help make the booking process as streamlined as possible:
date, time, and location
estimated # of people in attendance
estimated budget, if any